Nike Radiation Safety Glasses by Phillips Safety Products come standard with .75mm Pb Schott SF-6 Leaded Lenses. While still offering the fashion, design, and quality you come to know from the Nike Brand Frames. Nike radiation glasses are available in non-prescription lenses, or you can customize them with prescription lenses.
All our lead lenses can come standard, or you can add our Permanent Anti Fog coating or our Anti Reflective Coating, whatever works best for your application. If you are a doctor, nurse, or technician working in an x-ray lab, cath lab, hospital, dental office, or anywhere needing radiation protection Nike Leaded glasses would be a great option.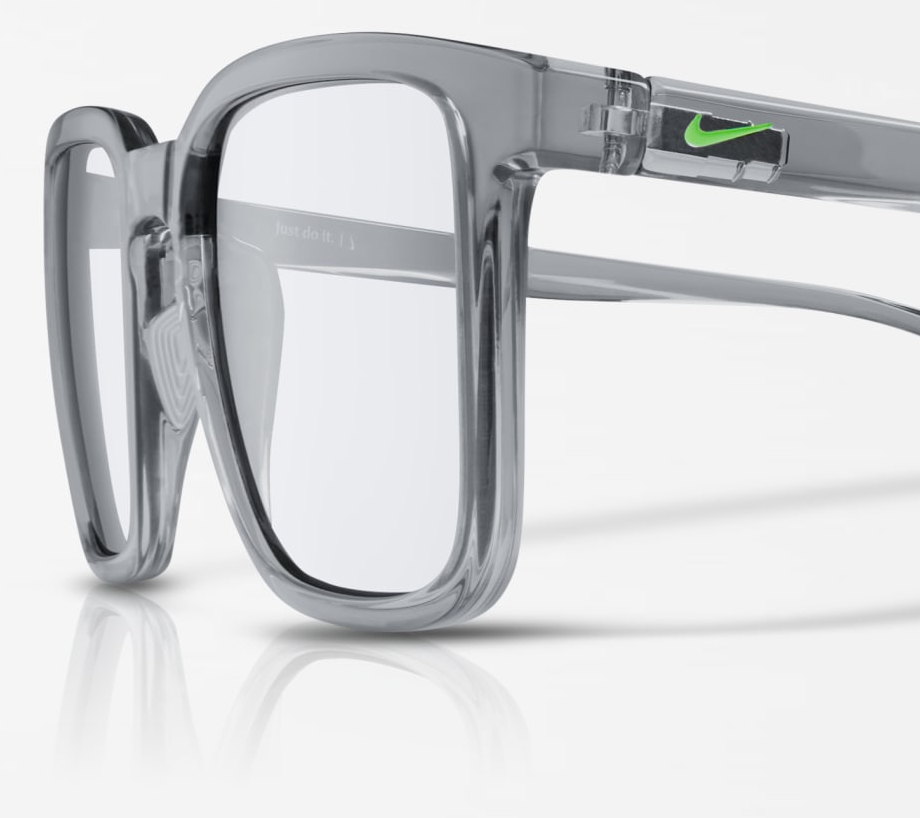 All of our Nike radiation glasses come equipped with protective lenses. Specifically, these lenses are high-quality, distortion-free SF-6 Schott Glass Radiation-reducing lenses with 0.75 millimeters of lead equivalency. These lenses are made of the highest quality and will do their part to shield your eyes from hazardous radiation. Beyond the lenses, however, customers can capitalize on the sheer quality of Nike products. These glasses are lightweight and built with spring hinges for added durability. Rubber temples also provide a secure grip. And because these are Nike products, these radiation glasses are extremely stylish. At Phillips Safety you are sure to find a pair that contains your favorite color and design.
SHOP BEST NIKE LEADED GLASSES
Whether you're a medical professional or a consumer, Nike radiation glasses help keep your eyes safe from harmful radiation. A good pair of lead glasses should be comfortable to wear while still providing radiation protection.
Today's radiation glasses are more comfortable and lighter than ever before. At Phillips Safety we offer an array of options that are well-weighted and designed to distribute the weight evenly throughout the frame. You can check the weight of each pair of lead glasses inside each item, under Product Information.
Overall, Nike lead glasses are a high-quality, comfortable option for medical professionals that work with radiation equipment. They are available in several shapes, colors, prescription, and optional add-on features. In addition, some are even available with laser engraving. This way, Phillips Safety ensures that each user can find the right pair of glasses for their specific needs and requirements.
Don't hesitate to check out our collection of Nike lead glasses. We are confident that you will find the perfect glasses for your needs. If you need help or more information about our products, we are just one click away: talk to us through our chat, e-mail us at service@phillips-safety.com, or call us at 1-833-946-1351.
WHAT IS THE NIKE RADIATION GLASSES LENS PROTECTION?
Nike radiation glasses provide eye protection against radiation through their distortion-free SF-6 Schott Glass radiation-reducing lenses with 0.75 millimeters of lead equivalency.
WHERE TO WEAR NIKE RADIATION GLASSES?
Nike radiation glasses are worn in a variety of contexts, most related to the medical field. For protection against radiation, lead glasses are worn in hospitals, operating theaters, medical imaging, radiology laboratories, catheter labs, dental and veterinary facilities. In those contexts, radiation glasses act as x-ray protection shields for your eyes.
HOW MUCH DO NIKE LEADED GLASSES COST?
Our goal at Phillips Safety is to provide customers with radiation glasses that provide the highest protection against x-ray. That being said, our Nike leaded glasses start at $229.00, with many options to choose from. Added features such as prescription and lens coatings can bring up the price of your safety glasses. However, these features are provided at the best price in the market.
DO NIKE LEAD GLASSES MEET SAFETY STANDARDS?
Yes, they do. All the lenses of our radiation glasses meet rigorous safety standards, featuring CE certification.
HOW LONG DOES IT TAKE TO GET NIKE RADIATION GLASSES FROM PHILLIPS SAFETY?
The shipping of Nike radiation glasses usually takes between 3 and 5 business days. Prescription orders from Phillips Safety take between 7 and 10 business days to be completed and shipped. This is the same for all prescription safety glasses. For more information about estimated delivery times, please contact us on our chat, e-mail us at service@phillips-safety.com, or call us at 1-866-575-1307. Phillips Safety is committed to getting your order out quickly and efficiently while doing proper quality control.
DO NIKE RADIATION GLASSES COME WITH A CASE?
Yes, they do. All Nike radiation glasses at Phillips Safety come with a case for their protection.
HOW TO CHOOSE NIKE LEAD GLASSES?
To choose the right Nike lead glasses for you, first you need to check the lead equivalency of the lens of the anti radiation eyewear. The standard of the industry for lead equivalency of radiation glasses is 0.75 mm PbEq. At Phillips Safety, you can check that information in the description of each product or on the "Protection Level" attribute under the "Product Information" tab.
WHERE TO BUY NIKE LEADED GLASSES?
The best and easiest way to buy Nike leaded glasses is online. Companies like Phillips Safety are dedicated to providing the best lead safety glasses at affordable prices and quick delivery.